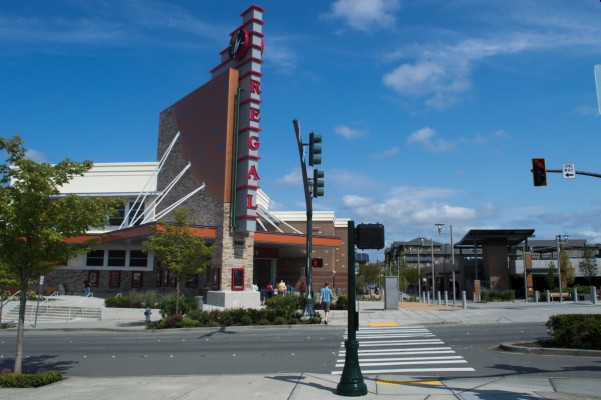 Regal Cinemas operates the Issaquah Highlands Stadium 12 IMAX & RPX. It is located at 940 NE Park Drive, Issaquah, WA – (800) 555-5555. These theaters are extremely popular for all residents of Issaquah and Sammamish.
You can see the current lineup of movies at this link.
The urban center of Issaquah Highlands, of which the cinemas are a part, is upscale and very unlike the shopping centers we have experienced for decades across the country.
The cinema entrance is on Park Avenue N.E. at the southeast corner of its building. Parking is provided in a parking garage to the east of the cinema complex.
The Issaquah cinema complex fills the block from the Park Avenue entrance to the southeast corner of Highlands Drive N.E. and High Street.
The complex includes stadium seating in 12 theaters, RPX and IMAX.
The 12-screen theater can accommodate more than 2,500 moviegoers.
Patrons enjoy digital projection in every auditorium, stadium seating, with each row elevated for an unobstructed view, and high-back rocking chairs featuring cup holder armrests which move out of the way to form seats for two.
Prior to this theater, the closest stadium seating was in Bellevue at Lincoln Square Cinemas.
The stadium seating of this movie theater has become increasingly popular around the country, and most new theaters are now built with stadium style seating. This was the first (and may forever be the only) stadium seating in Issaquah.
At Issaquah Highlands the Regal Premium Experience (RPX) presents movies with powerful, uncompressed surround sound and bright images in 2D and 3D.
An IMAX digital projection system at Regal Issaquah Highlands showcases Hollywood blockbusters that have been digitally re-mastered into the unique image and sound quality of The IMAX Experience. Films are projected on a specially-designed IMAX screen that is slightly curved and moved forward, coupled with a proprietary digital surround sound system to immerse the audience.
The theaters are also equipped with the Sony Entertainment Access System to assist moviegoers who are deaf, hard of hearing, blind or low vision. Guests desiring such accommodations need only request the Sony Entertainment Access System at the Guest Services counter or from any manager. To select films offering this service, online show times will note: "Accessibility devices available."