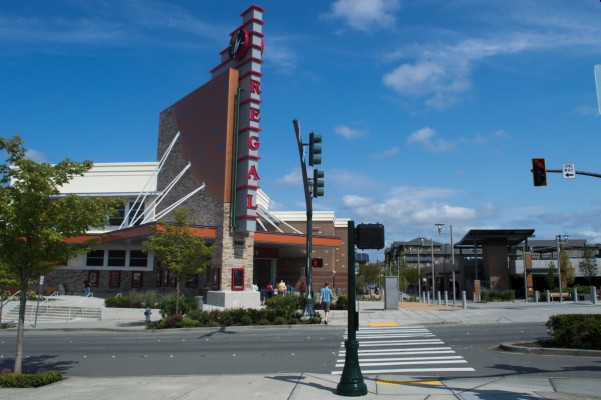 Regal Cinemas operates the Issaquah Highlands Stadium 12 IMAX & RPX. It is located at 940 NE Park Drive, Issaquah, WA – (800) 555-5555.
You can see the current lineup of movies at this link.
Before construction of the cinemas began, the site was empty. For years before, the streets were in place, but with no buildings. Going from empty land to full city blocks of multi-story buildings was a radical and disorienting change.
The urban center of Issaquah Highlands, of which the cinemas are a part, is upscale and very unlike the shopping centers we have experienced for decades across the country.
The cinema entrance is on Park Avenue N.E. at the southeast corner of its building. Parking is provided in a parking garage to the east of the cinema complex.
The Issaquah cinema complex fills the block from the Park Avenue entrance to the southeast corner of Highlands Drive N.E. and High Street.
The complex includes stadium seating in 12 theaters, RPX and IMAX.
The 12-screen theater can accommodate more than 2,500 moviegoers.
Patrons enjoy digital projection in every auditorium, stadium seating, with each row elevated for an unobstructed view, and high-back rocking chairs featuring cup holder armrests which move out of the way to form seats for two.
Prior to this theater, the closest stadium seating was in Bellevue at Lincoln Square Cinemas.
The stadium seating of this movie theater has become increasingly popular around the country, and most new theaters are now built with stadium style seating. This was the first (and may forever be the only) stadium seating in Issaquah.
At Issaquah Highlands the Regal Premium Experience (RPX) presents movies with powerful, uncompressed surround sound and bright images in 2D and 3D.
An IMAX digital projection system at Regal Issaquah Highlands showcases Hollywood blockbusters that have been digitally re-mastered into the unique image and sound quality of The IMAX Experience. Films are projected on a specially-designed IMAX screen that is slightly curved and moved forward, coupled with a proprietary digital surround sound system to immerse the audience.
The theaters are also equipped with the Sony Entertainment Access System to assist moviegoers who are deaf, hard of hearing, blind or low vision. Guests desiring such accommodations need only request the Sony Entertainment Access System at the Guest Services counter or from any manager. To select films offering this service, online show times will note: "Accessibility devices available."
P.S.
Are you interested in answering the question, "What's it like to live in Issaquah?" Get The Guide.
The Marshall family used it to answer that question.
Don and Nikki used it to figure out their Issaquah commute because it played a key role in determining where they wanted to live.
Dylan and Fan used it to learn which Issaquah neighborhoods and school boundaries fit their budget.
Tristan and Chandra used it to identify which Issaquah home styles they preferred.
Liz and Drew applied a strategy from The Guide that allowed them to find a home that worked for them--even in a market with low inventory.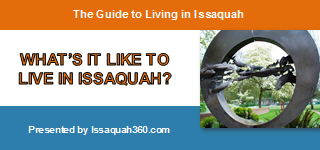 Each of them used The Guide–The FREE Guide to Living in Issaquah. You can too. See the yellow button? Click it. There, you can decide if The Guide is for you.
P.P.S.
If you like what you see on Issaquah 360, but you're not ready for The Guide, register below for Free Updates directly to your inbox so you never miss a thing in Issaquah.
We promise to never spam you or to share or rent your email address. You can unregister anytime by using a link in each message.