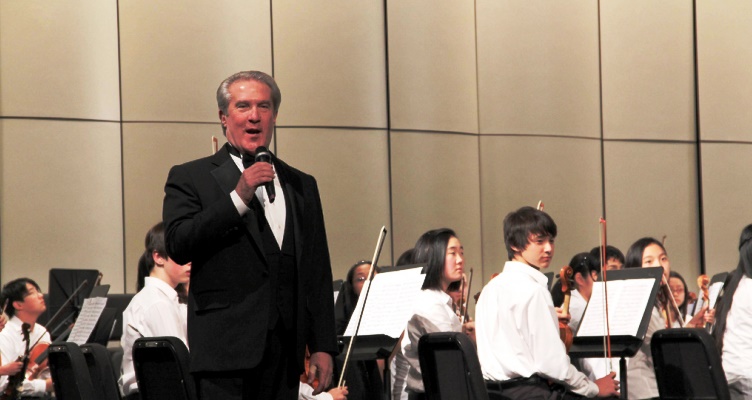 Doug Longman is a high school teacher at all three of Issaquah's high schools: Skyline High School, Issaquah High School and Liberty High School. He teaches Orchestra and directs the Evergreen Philharmonic.
He has been here since the fall of 1978 and has positively influenced the lives of many hundreds of students over his 35 years in Issaquah. As we learn in this interview, he will be influencing students for many more years.
Members of Evergreen Philharmonic are high school students who reside within the Issaquah School District. The orchestra is a professional training orchestra that prepares its members to be independent, functional musicians, some of whom go on to enjoy playing as amateurs in local community orchestras, and some who go to major conservatories and professional careers.
Doug travels between the high schools to teach the orchestra classes during the school day and brings the whole orchestra together after school on Fridays.
Having experienced the pleasure of parenting a student of Doug's, I thought you might also enjoy getting to know him (or getting to know him from a different perspective).
Where were you born?
El Paso Texas!
What brought you to Issaquah?
When Proposition 13 passed in California in 1986, about 10,000 young teachers were out of a job. I came north looking to relocate and Issaquah was hiring!
What are the three things that stand out about living in Issaquah versus other cities you've lived?
Issaquah is friendly, close to a cultural center, and scenic.
Why did you originally decide to become a music teacher? Looking back over thirty nine years, were those reasons reasonable?
I became a music teacher when I realized how repetitive professional orchestra playing could be. Looking back, I'm not sure that was a completely valid reason, but I sure don't regret my decision.
How are today's students different from those you began with?       
Students are much more serious and motivated today. Back then, anybody could quit school and be a riveter at Boeing and earn more than a teacher. Times have changed!
What's the change that troubles you most?
The educational trend of more testing in fewer subjects does not serve students well. Also, the general lack of support of education nationally concerns me – we are on our way to being a second-rate nation because of our refusal to commit the kind of resources that are required for a first-rate education.
What's the change that encourages you the most?
It used to be "cool" to be dumb. That is totally gone – and good riddance!
Can you sing?
Not in public.
What are your favorite night-out-on-the-town destinations?
I love to go out to good restaurants. My current favorite is Flatiron Grill in Gilman Village. I also love Nicolino's for just informal Italian cooking.
If young people want to be a musician as a career, what advice would you give?
If you mean as a concert performer, they have to be extraordinarily talented and have to want to do that more than anything else. But to be a professional musician can be a very rewarding career.
If young people want to be a teacher as a career, what advice would you give?
I highly recommend it! No two days are the same – it is very satisfying to see that you make a difference in people's lives.
If young people want to be a music teacher as a career, what advice would you give?
This is the best of two worlds – the art of making music and the art of teaching. If the money isn't enough, consider a part time job on the side – it can work out well if you are creative.
Do you experience pressure on the job? How do you manage it?
Oh, sure – any job worth having has pressure associated with it. You learn to know what it is and use it as a motivating force rather than a discouraging force.
Sports coaches experience pressure from parents to let their children shine. Do you experience the same thing?
Yes, sometimes – and like coaches, sometimes you have to tell parents things they don't want to hear or accept, but you have to be honest to yourself and your profession. And – you have to keep in mind that you might be wrong.
When do you expect to retire? What do you plan to do after retirement?
I don't have plans to retire any time soon, but I suppose eventually there may be physical reasons why it might become necessary. I have lots of interests – maybe I'll just make furniture!
Photo credit: Flint Weiss