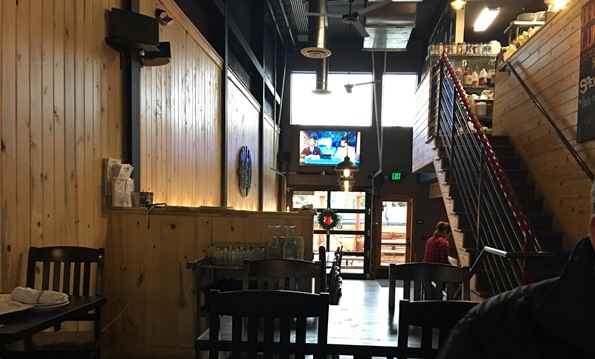 My son and I were looking for some place to go to lunch.
Our office is in Old Towne Issaquah so we have pretty much all of Issaquah to choose from.
Recently, we've found ourselves repeating the same old haunts.
When Levitate first opened earlier this year, I thought maybe I should try it and then said, "it looks like just another sports bar kind of place—boring." It has slid down my list based on judging this book by its cover.
Well, since we were tired of the old haunts, I suggested we go to Levitate, thinking we'd just get a burger and fries.
Walking in, I saw what I expected to see: big TVs with golf, football commentary, etc, a nice big bar with chalkboard, wooden tables and chairs and a nice welcome from the staff.
They brought the menu and everything changed.
This isn't Levitate, the sports bar. It's Levitate Gastropub.
We were presented with a choice of Rabbit Empanadas, Pumpkin Lamb Chili, BBQ Wild Boar Sandwich, Salmon Pastrami Sandwich, Buffalo Sausage Sandwich and the obligatory steak sandwich and a couple different sizes of burgers. All of those things sounded alluring.
I read the Salmon Pastrami description and came away thinking it was for me but I didn't get the connection between the salmon and pastrami, so I asked. It turns out that this is salmon shaved thin (sort of like LOX) and seasoned with pastrami seasoning. It sounded pretty good.
It wasn't pretty good, it was really delicious.
My son selected the BBQ Wild Boar Sandwich and he drew the same conclusion as I did.
The French fries are also worth mentioning. I like fries but usually eat only a few. I saw these. They were small and short. They looked bothersome to eat. But they too were excellent, cooked just right, easy to eat with a form and no knife.
There were only a few people in the place and the service was really prompt. I've seen plenty of people there but not the day we went.
My son had a couple of cokes and I had water. Our bill was $35. That's a pretty big bill for lunch for two.
We won't be going again for a casual lunch. But it will be at the top of my list when I want some place that is casual — but really nice — for an event or an important business lunch.
I've learned – once more – to not judge a book by its cover.