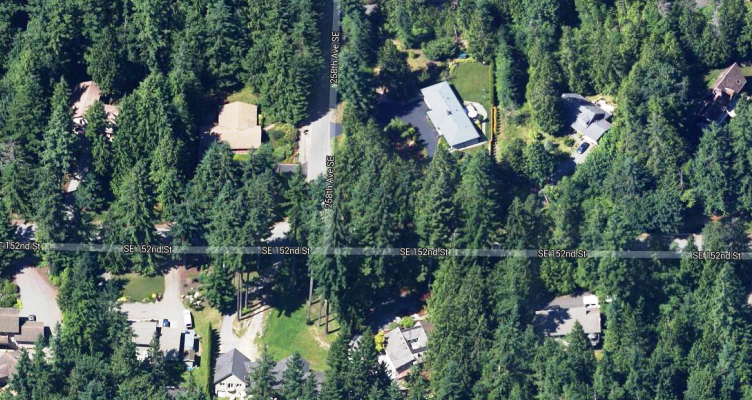 Mirrormont is a community within unincorporated King County, located south of Issaquah.
It is situated on an 800 ft. plateau southwest of Tiger Mountain. It overlooks a portion of Issaquah Valley and land to the south, west and east. The community encompasses nearly 700 acres.
History
The first homes in the neighborhood were built in about 1962. The developers were Rod Loveless and Glenn Nordlie. Lots were originally offered for sale for $6,000.
Since then, the population has grown to roughly 3,800 residents and about 587 homes.
Housing
Long, forested driveways lead to unique houses constructed by different builders over the years, ensuring no two looked the same. Lot sizes are three-quarter acres and larger. Many of them are located on multi-acre parcels.
The trees are 150-160 feet tall throughout the neighborhood.
Homes on the market today vary anywhere from $250,000 to $850,000. Many of the homes were built in the mid-1970s to the early 1980s, with some of the first homes in the neighborhood still existing. The size of the homes can vary anywhere from 1,800 to over 5,000 square feet. Mirrormont homes are also characterized of 3-5 bedrooms, 1-3 full bathrooms, and 1-2 partial bathrooms.
Statistics are useful tools for measuring the market, for making comparisons and for reviewing the various dynamic forces affecting home sales and home prices. The Mirrormont neighborhood is included among the home statistics for zip codes 98027 and 98029. Follow this link to view Issaquah Real Estate Market Statistics for Single Family Homes.
Homes Listed for Sale
This is a sample of the homes listed for sale in Mirrormont. Click the link below to view all of the listings.

See all ISS: Mirrormont.
(all data current as of 12/6/2013)
Listing information deemed reliable but not guaranteed. Read full disclaimer.
Family & Fitness
Tiger Mountain was designated as a state forest in 1981. It is part of the Issaquah Alps, which also includes Squak Mountain State Park to the northwest. Along Issaquah-Hobart Road is the trailhead for Poo Poo Point, a popular hiking destination that also features a launching point for paragliding. The peaks of Tiger Mountain offer panoramic views of Seattle, the Issaquah Valley, Maple Valley, and Mount Rainer.
At the center of the community is Mirrormont Park. It is an 11 acre piece of land owned by King County, jointly operated by the County and the Mirrormont Community Association.
The Mirrormont Community Association is open to anyone residing in the greater Mirrormont/Tiger Mountain Road area.  It is an organization of interested residents who work together on community projects and neighborhood concerns.
The Mirrormont Country Club is a private organization that includes an outdoor swimming pool, tennis courts, and clubhouse.  Annual membership is available by subscription – there is a waiting list to join the club.
The Mirrormont Community Association makes a community pea patch available for residents.
Restaurants & Shopping
Mirrormont has no restaurants or shopping nearby, with the exception of the Tiger Mountain Country Store, a gasoline and convenience store.
Beyond that, the closest are in downtown Issaquah, about 10 minutes away.
Schools
The area is part of the Issaquah School District. Maple Hills Elementary, Maywood Middle School, and Liberty High School serve Mirrormont.
Quirks
In a neighborhood where privacy is prized, Mirrormont residents still enjoy getting together.
"The people that live there are independent people, but you can be independent and still work well as a community and I think there are a lot of people that are very motivated and driven in their personal lives and they bring that to the sense of community so that Mirrormont is kind of its own place," says resident Paul Baer.
King County announced that they would not provide snow removal services due to budgetary constraints.
Major Street Boundaries
Mirrormont is accessible through three main routes: SR-18 to the southeast, SR-169 to the southwest, and Issaquah-Hobart Road to the north. South of Mirrormont is Hobart, Maple Valley and Covington, with Renton to the west. Snoqualmie and North Bend are to the northwest.
It is about a 10 minute drive from Issaquah to the Mirrormont area. It is also about a 30 minute drive from Seattle, and about 15 minutes to Renton.
Be a Better Informed Home-buyer or Home-seller
To answer the tons of other questions that home-buyers or home-sellers like you ask, we've built a library resource called yourIssaquah. If you're serious about being better informed, you especially need access to this free resource.
When you register (at no charge) you'll get instant access to this valuable collection of important, well-organized and usable information for Issaquah home-buyers and home-sellers. This is a library that we update and add to frequently.
Take a quick look at what's waiting for you in yourIssaquah right now . . .
The 6-page Market Update Report we offered you above.
Buyer Library consisting of useful ebooks covering different buyer situations:

First Time Homebuyer? 6 Things You Must Do
10 Dos and Don'ts About Choosing the Right Real Estate Broker
Real Estate 101: Your Home Buying Guide – COMING SOON
Relocating: a 10-Point Plan for a Stress-Free Move – COMING SOON

How is the Market? (real estate market statistics and analysis)
Issaquah's Development Future (Central Issaquah's redevelopment is going to change everything. You need to know about it.)
Multiple Listing Service (MLS) Data
Mortgage Calculators
Mortgage & Interest Rate News & Information (latest news about factors large and small that will affect your mortgage qualification and final interest rate)
yourIssaquah is a single stop library that will permit you to do your homework before making one of the biggest investments of your life.
So sign up for yourIssaquah, and get the advantage of valuable Issaquah real estate information and so much more. Did we say that it's FREE?
Certain information in this article is attributed to The Issaquah Press and the Mirrormont Community Association.