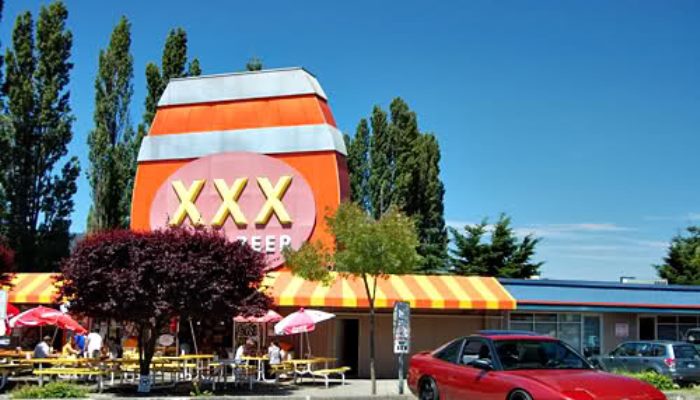 A historic landmark in Issaquah, the Triple XXX Root Beer experience is one that every resident needs to experience.
Serving all kinds of fast food there, they emphasize burgers and milkshakes. You can even order one of the largest burgers you've ever seen.
The Triple XXX Root Beer corporation was founded at the beginning of the prohibition era. There were once many Triple XXX Root Beer bottlers across the country. In the 1930s and 1940s, a chain of drive-in restaurants was founded.
The first Triple XXX Root Beer location in Issaquah was located on Sunset Way near what is now the Flintoff Funeral home. It was closed in the late 1950s.
The current location opened in 1968.
Once a drive-in, the Issaquah location no longer serves you in your car. Instead, you are invited into the Americana and 50/60s kitsch filled restaurant to order your burgers, fries and milkshakes. You can eat inside or outside at umbrella shaded tables.
During its heyday, Gilman Boulevard in that area was Highway 10, the highway from Seattle east to Snoqualmie Pass. In those days, Triple XXX directly served travelers through town. But it has been 40 or more years since I-90 opened and took Triple XXX off the traveled path.
Nevertheless, it has survived.
Today, all that's left of the nationwide Triple XXX brand is the Triple XXX Root Beer on Gilman Boulevard in Issaquah and a family restaurant in Indiana.
One of the Issaquah location's key survival techniques has been sponsoring car shows throughout the year.
If you haven't been to a Triple XXX Root Beer Car show, it's quite fun.  It's something that can entertain the young, old, children and families; you can even bring your pets. The car shows are free.
On show day, the car owners drive-in or tow-in from near and far. They each pay an entrance fee. The show cars are there by 8 am and once in place, the owners stay there all day with their car.
Walk up to the car owners if you find a car you like. Ask them questions. Ask them how they got the car and what they've done to improve it. The cars are their labors of love, they have a story to tell and love to share it with people.
These are great events to talk to a wide range of people, to take cool pictures and even eat cheeseburgers. There's also live music at most events.
You can get the current schedule of car shows at their website: www.triplexrootbeer.com.
Coming Issaquah Events