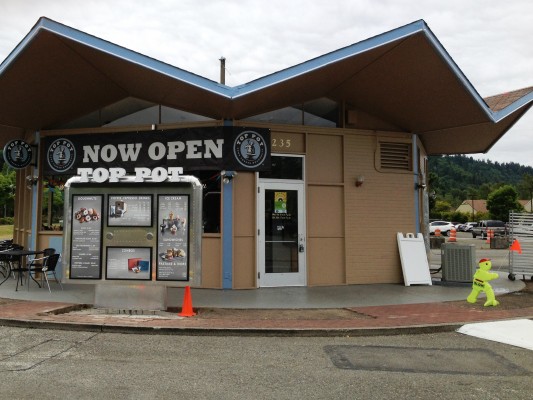 Several years ago, a staff accountant at our business brought a box of Top Pot Doughnuts to be shared among the employees. I don't know how much sharing occurred but those doughnuts quickly disappeared.
They were so delicious and my self-control so low that I wanted to go get more. When I learned that they came from downtown Bellevue to our Issaquah office, my self-control became emboldened again. It was just "too far away".
Two years ago, my daughter visited from Salt Lake City. One of her few specific requests was to make a purchase at Top Pot Doughnuts in downtown Bellevue.
In between, my self-control has been under attack with Top Pot news. President Obama was shown eating one. Later, Top Pot became the official doughnut provider to CenturyLink Field, the Seahawks and the Seattle Sounders FC.
So when my daughter made her request, I immediately recognized the name and recalled the attack on my self-control.
My daughter provided the driving directions and I provided the wheels. Before long, three boxes of Top Pot doughnuts showed up at my house.
Still, it was a sufficient distance that my self-control wasn't triggered beyond that one visit.
Early in 2013, I learned that Top Pot Doughnuts had signed a lease for an Issaquah store.
I could feel the rising need for one of those really dense maple bars.
I found myself monitoring the tenant's improvement progress and worried that I pass the store too often to effectively and regularly "just say no".
In March, the store opened and I was a quick customer. Since we are a PG publication, let's just say that those doughnuts are really, honestly, gosh darn good.
The store is located at the northwest corner of 12th Avenue and Maple Street. It is a round building with a drive-up window.
Over the years, you've probably seen nearly a half-dozen different restaurants there.
Will Top Pot make it work there? They may just be able to reverse the hex. Traffic from Squak Mountain, the Issaquah Park and Ride and areas south should be enough — and that drive-through is Top Pot's first anywhere.
All the other Top Pot stores have a very limited menu: strictly coffee, donuts and muffins.
In Issaquah, they serve all kinds of food that can challenge the waistline: doughnuts, ice creams and sandwiches—salami, turkey, veggie or roast beef. They also offer sodas.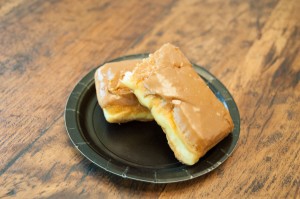 Their original glazed doughnuts are made with sour cream, making them dense and moist. Whether glazed, Maple bars or Bismarck's, they are all old fashioned and dense.
Leave your grocery store price list at home, because these are not Fred or Joe's donuts. It'll cost you $2 and tax for a Top Pot Doughnut. You see, there's so much difference that they can't even be spelled the same way!
As for my self-control, I have re-jiggered my route to work. So far it has helped a little.
Top Pot Doughnuts
1235 NW Maple Street
Issaquah, WA 98027
425-270-6161
Click here for hours.
P.S.
Are you interested in answering the question, "What's it like to live in Issaquah?" Get The Guide.
The Marshall family used it to answer that question.
Don and Nikki used it to figure out their Issaquah commute because it played a key role in determining where they wanted to live.
Dylan and Fan used it to learn which Issaquah neighborhoods and school boundaries fit their budget.
Tristan and Chandra used it to identify which Issaquah home styles they preferred.
Liz and Drew applied a strategy from The Guide that allowed them to find a home that worked for them--even in a market with low inventory.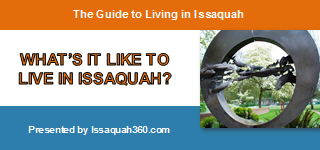 Each of them used The Guide–The FREE Guide to Living in Issaquah. You can too. See the yellow button? Click it. There, you can decide if The Guide is for you.
P.P.S.
If you like what you see on Issaquah 360, but you're not ready for The Guide, register below for Free Updates directly to your inbox so you never miss a thing in Issaquah.
We promise to never spam you or to share or rent your email address. You can unregister anytime by using a link in each message.