Lake Sammamish State Park is a massive green space resource for the people of Issaquah (and beyond).
Yet, over the past 40 years or so, maintenance of the park improvements has been insufficiently funded. As a result, many of the park features are in various states of disrepair. Some have exceeded their useful lives.
This is not a result of poor Ranger performance. It is caused by a lack of funding from the state. The Rangers are credited with performing extremely well with the funding available.
It is a state asset governed by a state agency located elsewhere and with responsibility for many state parks, all with varying levels of underfunding.
Many years ago, the park had lifeguards and a lot of people visited the park for summer events and swimming. Some say that the park is now underutilized.
From 2004-2007, a citizen advisory group worked with state agencies to develop a master plan for the park. In 2007, that plan was issued. A copy of that large document can be viewed here.
It was issued just in time for the global financial crisis and has been on the back burner since then.
The Tastin' n Racin' hydroplane event was held at the park for many years with a portion of the proceeds going to support the park. The last event was held in 2012 and will not be going forward due to a variety of issues, including insurance.
In 2012, the City of Issaquah passed the Central Issaquah Plan into law which will create a dense urban core adjacent to Lake Sammamish State Park. Part of that plan includes the park as a major element of the so-called Green Necklace.
Recently, The Issaquah Press has reported on three proposals submitted for the development of the park, development ranging from light to heavy.
The Friends of Lake Sammamish State Park is a recently formed, citizen led, non-profit organization hoping to organize efforts to support the park. Issaquah 360 is a charter member of that group.
As is normal with such major public assets, there are many opinions about the future of the park. They range from allowing the park to go natural to developing it into a major regional resource including hotel and convention center.
Even among the leadership of The Friends of Lake Sammamish State Park are many visions for the park. They all recognize the need to help the park but coalescing efforts will require developing a common vision.
Underlying these uses are some fundamental decisions about what is appropriate for this public asset. Is it necessary that its use be optimized? What is optimum? Should the state be required to maintain a park of this nature if it doesn't serve at least the regional population? What about the environmental concerns arising from the flow of three salmon bearing creeks through the park to Lake Sammamish? Or the heron rookery?
These are not new questions. But there hasn't been much of a public discussion about the questions since 2007. Now the subject of Lake Sammamish State Park is arising with frequency.
We here at Issaquah 360 have an opinion on these topics. We share for the most part the opinions of John O'Brien recently expressed in a Letter to the Editor at The Issaquah Press: "bring back the lifeguards; bring in new sand for the beaches; smooth and replant the lawns; put in a couple of swimming and fishing docks; replace the bath house; and upgrade and add picnic shelters."
The park needs to remain a park. Increases in usage should not be a primary objective. Increased usage may result from these simple improvements but we should not be motivated by usage statistics. Nor should we consider allowing urban improvements into the park.

P.S.
Are you interested in answering the question, "What's it like to live in Issaquah?" Get The Guide.
The Marshall family used it to answer that question.
Don and Nikki used it to figure out their Issaquah commute because it played a key role in determining where they wanted to live.
Dylan and Fan used it to learn which Issaquah neighborhoods and school boundaries fit their budget.
Tristan and Chandra used it to identify which Issaquah home styles they preferred.
Liz and Drew applied a strategy from The Guide that allowed them to find a home that worked for them--even in a market with low inventory.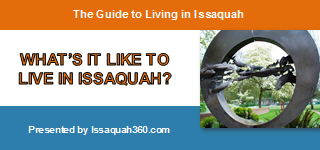 Each of them used The Guide–The FREE Guide to Living in Issaquah. You can too. See the yellow button? Click it. There, you can decide if The Guide is for you.
P.P.S.
If you like what you see on Issaquah 360, but you're not ready for The Guide, register below for Free Updates directly to your inbox so you never miss a thing in Issaquah.
We promise to never spam you or to share or rent your email address. You can unregister anytime by using a link in each message.
Photo credit: Tanya Little