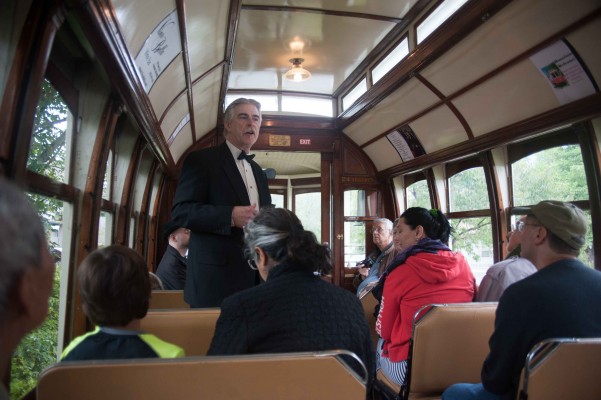 As you've probably already heard (word travels fast here in our small town of Issaquah), a vintage trolley is now in service here.
Trolley No. 519 service is more a novelty — a tourist attraction — than a mode of transportation.
It runs weekends from the historic train depot across Front Street and along the tracks parallel — and adjacent — to Rainier Blvd.
The traveled line ends just before crossing the bridge over the East Fork of Issaquah Creek (adjacent to Darigold Plant) because the bridge is no longer serviceable. The Trolley then returns to the station.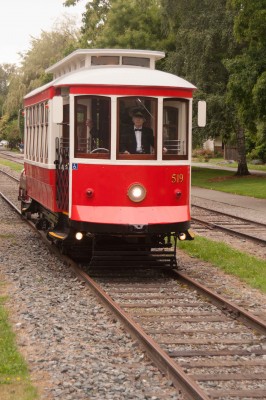 There is some discussion about restoring the East Fork bridge so that the Trolley can run to the corner of Rainer Blvd and Gilman Blvd., an extra few hundred yards, before returning to the depot.
That would just lengthen the line. It wouldn't transform the Trolley into one that transports people from one place to another.
The Trolley expects to operate summer weekends into October as long as the weather is good.
Trolley No. 519 brings with it some history of its own. It's a rather inglorious history but given its new lease on life, its time in Issaquah may be among the best of its long life.
The trolley was manufactured by the JG Brill Company in Pittsburgh in 1925 and delivered to Lisbon, Portugal as a kit to be assembled there. It served on the streets of Lisbon as part of a public transportation system for about 50 years.
Then, in 1978, the car and five Lisbon siblings were acquired by the nonprofit Aspen Street Railway Company with the intent that the cars be used in a trolley system to be operated in the town of Aspen, CO. Later, the non-profit donated them to the city of Aspen.
For nearly 25 years, the cars were stored in an open field at a ranch near Aspen. For a time, they were covered by tarpaulins.
By the time the rusted old cars were put up for sale in early 2001, they presented a pathetic scene with torn and rotting seats and broken windows.
Their Aspen demise occurred in November 2002 when the voters and city council rejected the heritage streetcar proposal.
In a controversial move, immediately after the vote, the city of Aspen gave the cars away to other communities without notice or public bidding.
In late 2002, the six Lisbon siblings were divided up. Two came to Issaquah. One went to Tucson and two went to Wanganui, New Zealand. The sixth went to the dump after having been cannibalized for parts.
Upon arrival here in Issaquah, No. 519 sat for another ten long years in disrepair.
Finally in 2012, No. 519 was sent to Iowa for a full restoration. The car, after sitting unused and in disrepair for about 35 years was returned to Issaquah in sound and serviceable condition again.
A short operational season in 2012 was followed by the winter of 2012-2013. Now, in 2013, No. 519 is back in service.
It seems pretty universal here in town that residents want to preserve the historic character of our downtown. To do that, continuous efforts need to be made to bring people to the downtown area so that businesses there can thrive.
This is an excellent addition to that prescription.
P.S.
Are you interested in answering the question, "What's it like to live in Issaquah?" Get The Guide.
The Marshall family used it to answer that question.
Don and Nikki used it to figure out their Issaquah commute because it played a key role in determining where they wanted to live.
Dylan and Fan used it to learn which Issaquah neighborhoods and school boundaries fit their budget.
Tristan and Chandra used it to identify which Issaquah home styles they preferred.
Liz and Drew applied a strategy from The Guide that allowed them to find a home that worked for them--even in a market with low inventory.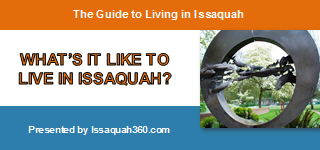 Each of them used The Guide–The FREE Guide to Living in Issaquah. You can too. See the yellow button? Click it. There, you can decide if The Guide is for you.
P.P.S.
If you like what you see on Issaquah 360, but you're not ready for The Guide, register below for Free Updates directly to your inbox so you never miss a thing in Issaquah.
We promise to never spam you or to share or rent your email address. You can unregister anytime by using a link in each message.