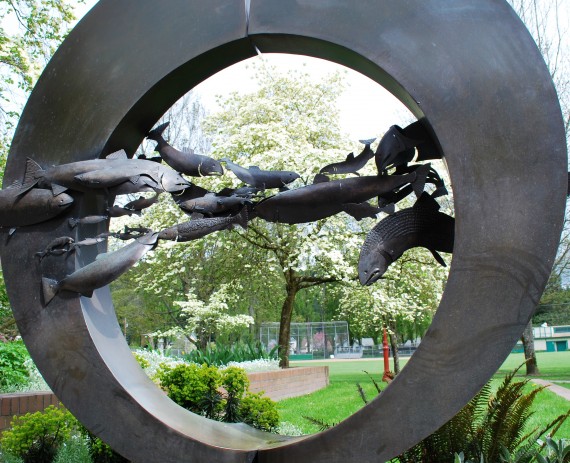 Salmon and its cycle of life play a central role in the Issaquah community identity.
In the timeless centuries of life before Europeans inhabited the area, salmon had been a natural product of Issaquah Creek. They were born in the creek and left through Lake Sammamish and Lake Washington to the Puget Sound. Later, they returned to Issaquah Creek, to spawn and die.
But Issaquah Creek suffered considerably from the industrial abuse dealt by logging, mining and the dairy business and the salmon run was driven near extinction by the late 1920s.
In what must be one of the earliest efforts to restore an ecosystem, in 1936-1937, a federal jobs program built the Issaquah Fish Hatchery on Issaquah Creek in what is today downtown Issaquah.
More history of the Issaquah Salmon Hatchery is available from The Issaquah Press and the Issaquah History Museums.
Since that time, Issaquah residents have identified with the salmon's life cycle.
The hatchery consists of a dam blocking creek in order to redirect spawning salmon to hatchery control and tanks that are used to hatch fertilized salmon eggs in a controlled environment and allow safe maturation. The juvenile fish are then released to return to the sea.
The Issaquah Fish Hatchery is the only one in the State of Washington that is located in a metropolitan area. It is thereby the hatchery with the most annual visitation.
The fish hatching operation is much smaller than the educational and conservation roles that have evolved at the hatchery. Still controlled by the State, the hatching operation employs just two full time people.
The educational and conservation roles of the hatchery have been developed by Friends of the Issaquah Salmon Hatchery (F.I.S.H.), a private non-profit entity, since 1992 when it formed. The F.I.S.H. operation relies upon the efforts of 60 volunteers.
The annual return of the salmon is anxiously awaited and closely observed. Issaquah Salmon Days on the first weekend in October is the annual celebration of the return. The fish start arriving in early September with the Chinook coming through late October. Coho arrive in mid-October through the first of December.
Free year-round self-tours are available during daylight hours. Interpretive signage make self-tours quite informative.Docent led tours are also available when scheduled with F.I.S.H.
The Issaquah Salmon Hatchery is located at 125 W. Sunset Way, Issaquah, WA 98027. Its telephone number is (425) 427-0259.
Photo Credit: Laurie Clark