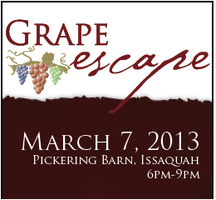 Thursday evening, March 7, Issaquah Rotary invites you and your guests to experience its seventh annual Grape Escape, a tasting celebration offering the opportunity to sample a variety of wine, food and beer, provided by local establishments.
This tasting event is a great example of our local community bonding together to provide an event that features local wineries, restaurants, breweries and more. Last year, over 400 guests sampled wines from 20 local wineries, enjoyed food from local restaurants as well as craft beers, fine chocolates, gourmet coffees and a variety of tequilas.
The event is from 6-9 p.m. March 7 at Pickering Barn, a local Issaquah historical site dating back to the early 1800s. Equipped with modern day facilities and offering 12,000 square feet, the simple charm, trellised grounds and rustic architecture create a great setting for this event. There is also plenty of free parking and good accessibility.
During the event and open to all guests is the added benefit of being able to buy wine and craft beer by the bottle with no added sales tax.
Along with the tasting celebration, there is a silent auction including a variety of offerings such as fine wine, wine related items, stays at quality resorts and hotels and more.
Tickets are $40 per person and can be purchased online by clicking here or through Issaquah Rotary Members. Please note that attendees must be 21 or older.
Proceeds from ticket sales go to support Issaquah Rotary Club's many charitable community projects including Rotary First Harvest, Issaquah Food Bank, scholarship programs and others. Issaquah Rotary is dedicated to helping with the needs of the community.
For questions or additional details, click here to email Lesley Austin or call 425-392-8122