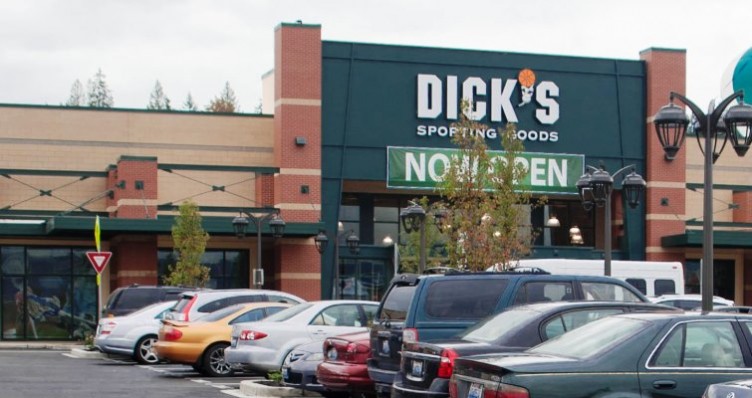 Dick's Sporting Goods has opened at Grand Ridge Plaza in the Issaquah Highlands.
Issaquah 360 doesn't usually do articles about individual businesses other than as they might fit in our categories like Restaurants and Recreation. But we're making an exception because Dick's is such a large part of Grand Ridge Plaza and it's brand new.
Arriving at the destination, the parking is less than optimal. Green, yes – optimal, no. Almost all of the stalls are for compact cars. Way out in the hinterland, you can find regular stalls. Also, the drive aisles are tighter than we have come to expect (like they provide at Costco). It seems that SUVs and Vans, while welcome, aren't as welcome as a small Prius.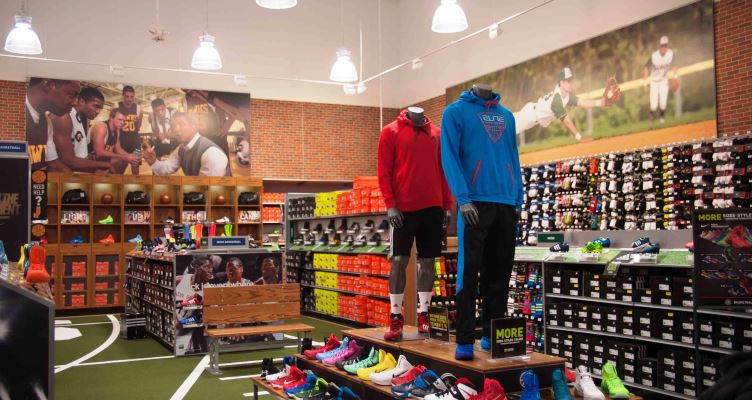 Dick's Sporting Goods is a big box retailer of -– you guessed it – sporting goods. They have a very wide range of goods: equipment and clothing.
This is only the third location in Washington. The other two are in Puyallup and Renton.
We have some other sporting goods stores in Issaquah, both Sports Authority and Big 5. None of these retailers are "local" per se. They are all corporate chains. Dick's is much larger than the other two stores.
At least now, while it's brand new, there are a large number of shoppers in the store. I'm told it's fun to shop there. Fun isn't a way I usually describe shopping but I'll pass along the tip anyway.
Dick's has a great setup. They cover all the major sports. No cricket. No scuba diving. But probably most of the sports you'll find around Issaquah are covered well.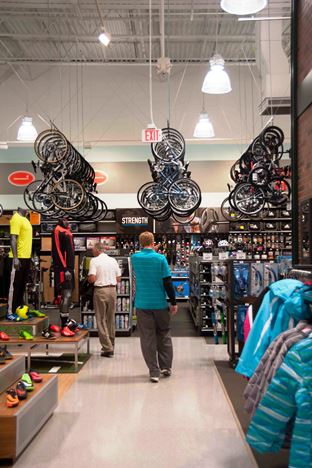 Look out for coupons in the mail and check in the store periodically for specials but don't expect frequent ads for an upcoming sale. That's not their approach.
It's a very easy place to shop. They have their inventory categorized by sport and then it's categorized by age group and gender.
The store looks great. It's well lighted. The aisle-ways are large and uncramped. There's a lot of vertical inventory display. Those vertical displays also help navigate the store.
We've had some questions from our readers about HomeGoods and Marshalls. We'll do a little piece on them after they open. They seem to be getting close to opening but aren't quite ready yet.
P.S.
Are you interested in answering the question, "What's it like to live in Issaquah?" Get The Guide.
The Marshall family used it to answer that question.
Don and Nikki used it to figure out their Issaquah commute because it played a key role in determining where they wanted to live.
Dylan and Fan used it to learn which Issaquah neighborhoods and school boundaries fit their budget.
Tristan and Chandra used it to identify which Issaquah home styles they preferred.
Liz and Drew applied a strategy from The Guide that allowed them to find a home that worked for them--even in a market with low inventory.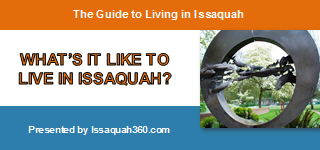 Each of them used The Guide–The FREE Guide to Living in Issaquah. You can too. See the yellow button? Click it. There, you can decide if The Guide is for you.
P.P.S.
If you like what you see on Issaquah 360, but you're not ready for The Guide, register below for Free Updates directly to your inbox so you never miss a thing in Issaquah.
We promise to never spam you or to share or rent your email address. You can unregister anytime by using a link in each message.