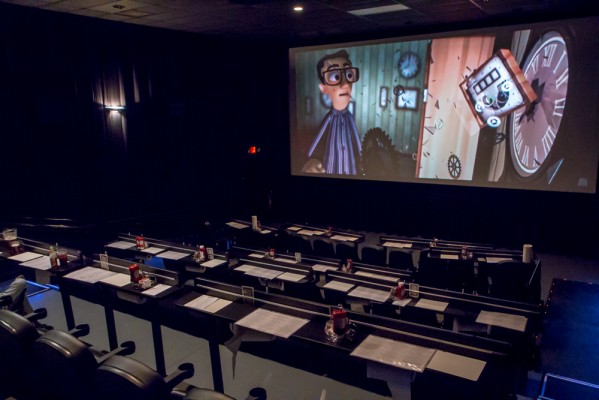 The former Issaquah 9 Regal Cinema has been converted and is now open as a Cinebarre, the Cinebarre Issaquah 8.
Movies offered are standard "in theaters now" offerings. Showtimes are available via Fandango. No one under 21 years old is permitted and they card everyone at the ticket booth. The ticket prices seem to be priced the same as at Regal Cinemas: Issaquah Highlands Stadium 12 IMAX & RPX.
Yesterday, we saw Hunger Games: Catching Fire on the movie's nationwide opening day. It was the same movie everyone saw in every theater across America but this is a review of Cinebarre so I won't talk more about the movie. My only point is that this isn't a movie discounter showing old movies after they've made first run elsewhere.
Over the years, as Issaquah 9 Regal Cinema aged and stadium seating became available in Bellevue, I lost interest in attending the local theater.
But Cinebarre Issaquah 8 is no warmed over Issaquah 9 Regal Cinema. It's the same building and you'll recognize the ticket booth and hall layout. You might ask why it's 8 when it was 9 — one of the theaters needed to be removed to make room for the kitchen.
When you walk into the lobby, it's clear that this place has been completely remodeled and looks brand new. The old concessions counter has been replaced by a bar and the walls are covered with giant movie posters.
Lobby and hallway carpets have been replaced with a gray three-dimensional floor finish.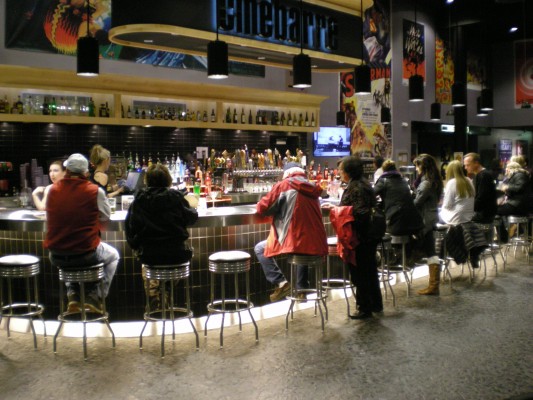 The photo at the top of the story shows the theater seating pretty well. My wife is short and hates having people sit in front of her. Of course, the next people who came in — after we seated ourselves in an empty theater — sat directly in front of us. As it turned out, the floor slope is generous and even with a table and people in front of us, there was no visual impairment at all.
All seats are first-come, first-served. Guests are encouraged to not leave empty single seats between parties to allow all ticket holders to find seats together.
The seats are quite firm but they do lean back. They are slightly narrower than Regal's modern seats. I didn't find the seating very comfortable but my wife thought they were fine.
The unique format of Cinebarre is that food and drink are served before and during the movie. Drinks include beer, wine, limited mixed drinks, soft drinks, Italian sodas and milkshakes.
It's such a unique movie concept that we have included a brief Cinebarre slide show describing the ordering process:
Menu items include burgers, pizzas, chef salads and a list of movie themed items. It's more bar-like fare than a nice restaurant's.
We had an order of the beef sliders that they call Slideways. As the menu specifies, there were four beef sliders with cheese and grilled onions. They describe them as "mouth-watering". They were good but not "mouth watering".
One somewhat odd thing, at least as far as movie theaters go, is that they don't sell buckets or bags of popcorn. They sell popcorn served in a silver bowl, like you might serve yourself at home. As unique as that is for a theater, the popcorn was really, really good. The last few times I've eaten Regal's popcorn, I've been disappointed, but this stuff was great. And I think they use real butter. It was $7.50 for the bowl, kind of expensive, but well worth it.
The service was friendly, prompt and generally unobtrusive. Our show probably had only about 15-20 customers. There was service before and during the show. The wait staff had to walk in front of us several times during the movie and there was some talking involved nearby. It wasn't bad, only slightly obtrusive.
The movie we saw was an action movie, with few quiet scenes. I wonder how the service would affect the movie-going experience with a quieter movie and a full theater.
Cinebarre Issaquah 8 is a welcome addition to our Issaquah community, providing nice variety.
Cinebarre Issaquah 8
1490 NW 11th Ave
Issaquah, WA 98027
(425) 313-5666