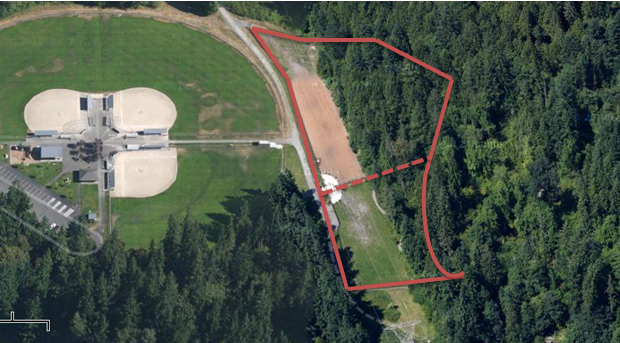 There are two off-leash dog parks in Issaquah. We previously described and reviewed the Bark Park at Issaquah Highlands. This is a review of the off leash area at Beaver Lake Park.
Open from dawn to dusk, Beaver Lake Park is quite large and if you go to the address listed for the park in general, you will get quite lost finding the dog park.
Instead, take SE 24th east toward the entrance of the park itself, but before you et to the general park entrance, turn south at 244th Avenue SE. You will quickly find yourself at a large baseball field complex.
Now you're in the right place.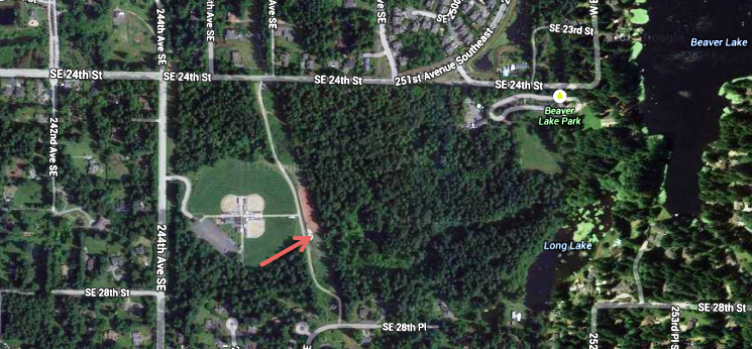 You can park in the baseball complex parking and use its bathroom facilities if needed. The dog park is immediately east (behind) the baseball complex.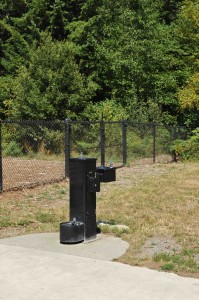 This popular off leash area is about 1.3 acres and divided between a small dog area (under 30 lbs.) and an unlimited dog area (any size dogs).
The city has had a difficult getting grass to grow and thrive in the unlimited dog area. After several years of trying with different grass types, they have covered the area in wood chip mulch.
The small dog area is still grassed.
The entrance to the two areas is at the western common boundary of the two lots. It is concrete.
There is a small common area with gate. Then each lot has its own entrance from the common area. That way the dogs have to get through two gates to escape. The park asks everyone to leash their dogs through the entry area.
Each lot has a water fountain for humans and dogs and benches. The dog fountain has a bucket type collector. Unfortunately, there are several reported (but unconfirmed) cases of giardia caused by dogs drinking from those collectors. Bring your own bowl.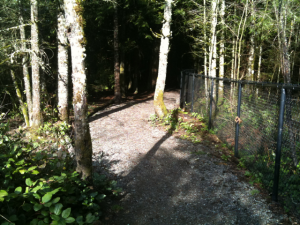 Each of the dog areas is comprised of a large open area and a wooded area. The wooded areas have graveled trails. The wooded areas are properly fenced so even if a dog goes into that area untended, they can't get out of the dog park.
Dogs find these areas interesting for sniffing, but they also work well if calming or shelter from the sun is needed.
The aerial map shows the approximate boundaries of the dog park.
Owners are responsible for picking up and properly disposing of the excrement of each dog.  Bags are provided.
There are no breed restrictions at Beaver Lake Park. But aggressive dogs, dogs under 4 months of age, sick dogs or female dogs in heat are prohibited.
People are asked to bring no more than two dogs and to supervise children under 14.
Before we close out this article, we're going to have to get into some semantics in order to please everyone.
Beaver Lake Park is located in and owned by the City of Sammamish.
Yet, we call it Issaquah in this article. Why?
Because Issaquah 360's definition of Issaquah is not the city limit of the City of Issaquah but rather the limits of Issaquah School District.
Beaver Lake Park is inside Issaquah School District and, for our purposes, Issaquah.